Ecommerce Templates > Livestores > Case studies > Packets Unlimited
Case Study #3 - Packets Unlimited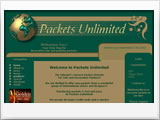 URL
Location
USA
Launch
June 2003
Product range
Fine Arts
Total products
1000 +
Background
We have been in the tole and decorative painting field for over nine years. We previously owned a retail tole shop in which we carried pattern packets from various designers, and all other painting supplies. We also taught classes in our shop. We closed our shop last year, but still stayed active in the field.
Several months ago, we came to the conclusion that there was a vast market on the internet to sell tole and decorative painting patterns. We set about contacting well known and established designers and also total unknown designers regarding a possible new site and were extremely well received.
Within two months, we went from an idea to a fully functioning, beautiful and successful website for the tole and decorative painter.
Why did you choose EcommerceTemplates?
Because they were exactly what we wanted and needed for our store. They were easy to use and work very efficiently.
How long did it take to set up your store?
Four days to set up store and approximately six weeks from start to finish. This included training and uploading the products.
What has been the biggest challenge?
As this was our first template, everything was a bit of a challenge but help form the forum made a great learning experience out of what at first seemed a hurdle.
How are sales / projected sales going?
Sales are going well. Of course, you always want more, but we are extremely pleased with the traffic and sales we are receiving and also the positive comments we are receiving about the site and the ease with which our shopping cart works.