Ecommerce Templates > ASP Version Help > Payment Processors > Amazon Payments (Simple Pay)

Amazon Payments and Ecommerce Templates
Amazon Payments (Simple Pay) was integrated into Ecommerce Templates shopping cart software in Version 5.6.5. It allows your customers to use their current Amazon account to purchase goods from your store. The customer would check out as normal and select Amazon Payments as their payment method on the shipping and billing page. They would then be taken to the Amazon secure server to enter their Amazon login credentials and review and confirm their order. If successful the customer will be returned to the store thanks page with a summary of their order details.
Setting up an account with Amazon
If you don't already have an Amazon Payments business account , you can sign up for a free Amazon Payments Business Account.
If you are not sure whether you have a business account, click this registration link. If your transaction history page appears, you already have a business account.
The Amazon Payments registration page collects your e-mail address, details about your business, and information about the bank account you want to deposit funds to. You will receive an email from Amazon to verify your email address so check your spam / junk folders if it isn't received.
To verify your bank account, Amazon Payments makes two small deposits to your account and then notifies you by an e-mail containing a link to verify the deposits. You can verify those deposits at https://payments.amazon.com/.
To Get Your Access Key ID and Secret Key
Go to the Amazon Web Services page.
In the top right select Your Account > Security Credentials
Scroll down to view the Access Key ID and Secret Key
Copy the secret access key and store in a safe place.
Setting up your Ecommerce Template with Amazon Payments
Once you have created your account, choose Edit Payment Providers in the store admin settings and click modify for Amazon Simple Pay. Make sure the Enabled box is checked, and enter the Access Key and Secret Key. You should not enter your Amazon account password into any of the store fields.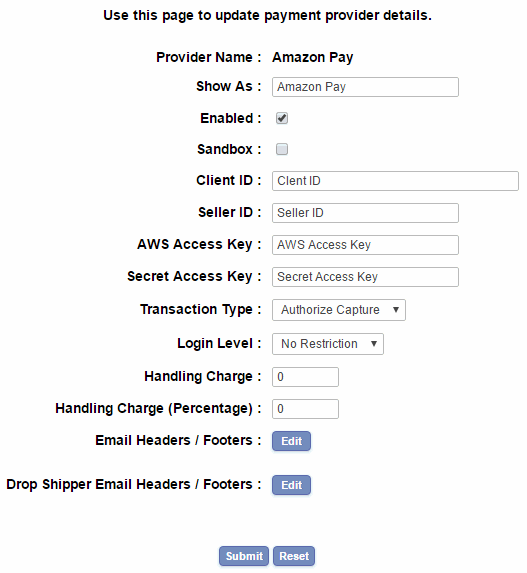 For the Transction Type you will normally want to set this to Authorize Capture. This corresponds to Amazon's "Settle payments immediately" and means that the credit card will be charged at the time of purchase. If you want the payment to be reserved on the buyer's credit card but not settled at the time of order, select Authorize Only. When using Authorize Only you can settle the order or issue a refund through the admin orders page, this is not the case with Authorize Capture.
For testing purposes (using the Amazon sandbox), you can put Amazon Payments into demo mode but remember to uncheck that box before going live with the store.
Please note that shipping information is collected from the shipping information entered through your store.
How to add your logo to the Amazon Checkout page
Log in to your Amazon Payments Business Account at the http://payments.amazon.com web site.
Click the Edit my Account Settings link.
Click the Manage Developer and Seller Preferences link.
In the Manage Selling Preferences page, click the Co-branded header image radio button and enter the URL for your company For example, http://www.yourstoreurl.com/images/logo.gif
Click the Confirm button.