Store Tools, Utilities, Services and Add-ons
The tools and services below are all provided and supported by Ecommerce Templates. Turnaround times will vary for each of the services but typically the set up site and apply updater will be carried out within 48 hours whilst the site health check is estimated at around seven days.
Mini cart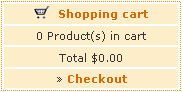 Add a mini cart to your site to show your customers the contents of their cart whatever page they are on. Please note, the mini cart is now included as standard in all template downloads.
Price: $25.00
Generic Integration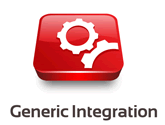 If you have an existing website or template then we can integrate our Generic shopping cart into that for you. Once you have purchased the Generic version (separately) we will add the store files, upload it to your server and make the database connection. That will leave you to make any final cosmetic changes and start adding products through the online control panel.
Price: $195.00
SQL Server Creation Script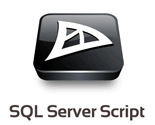 This script will create the tables and default data necessary to use the Ecommerce Plus templates with your SQL server or mySQL server database. The new version will now "upsize" your existing Access database. Please note this script is for the ASP template version. The PHP templates already come with a script for database creation.
Price: $35.00
Set Up Site Service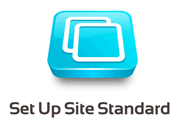 Why not relax and let us download all the template files to the server and connect up your database.
Price: $45.00
Set Up Site Plus Service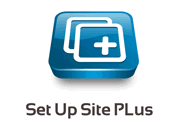 The Set Up Site Plus will really give your store a headstart. Apart from setting the database connection we'll take care of changing colors, adding dynamic menus, spry tabs, product reviews etc.
Price: $175.00
Digital Download Plug-in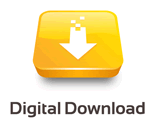 The digital download plug-in allows you to offer products for sale that are available as an immediate download following purchase. This might be useful when selling e-books, software, music etc where you want to provide the customer with immediate access to your products. It is possible to have both standard products and downloadable ones on the same store.
Price: $39.95
Set Database Connection

If you have problems setting your database connection, why not let us do it for you.
Price: $20.00
Database Health Check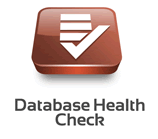 Your database is a key factor in the smooth functioning of your web site. If you think your database needs checking over, is in need of optimization or you are having specific database problems then we can have one of our professionals look over the database for you.
Price: $69.95
Apply Updater

Using our updaters is a simple job but some people prefer not to do it themselves. However now we can do it for you! After purchase please send us an email with your site URL and site login details. Please note, this does not include the updaters themselves.
Price: $20.00
Store Health Check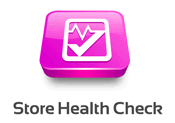 The health check service has been developed to give your store a thorough inspection to make sure you are getting the most out of your shopping cart. Our professionals will compile a report based on factors such as design, search engine readiness, security and coding as well as providing fixes for any issues that are found in the process.
Price: $69.95
---
---