Ecommerce Templates
shopping cart software
---
Check out our search engine & mobile friendly PA-DSS compliant ecommerce software. We give you the shopping cart software and design, you just choose the layout you like or integrate the software into your existing site, make the database connection, plug in your products and start selling. Complete ecommerce solution for just $159 (£95 approx.) NO monthly fees and NO set-up charges!
With every version you get an instant download of the shopping cart software and online control panel so you're ready to sell online.

While setting up your Ecommerce Templates shopping cart, you need to decide how to get paid. Accept credit cards, and PayPal payments.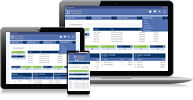 More than 40 shopping cart designs, all integrated with the same feature rich PA DSS compliant customizable ecommerce software