Ecommerce Templates > Database health check service
Ecommerce Templates Database Health Check Service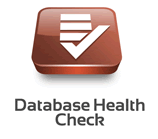 Your database is a key factor in the smooth functioning of your web site. If you think your database needs checking over, is in need of optimization or you are having specific database problems then we can have one of our professionals look over the database for you.
Please fill in the details below following the purchase of the database health check service and we'll give your database a thorough check over within seven working days.
If you have any questions regarding the database health check service or the fields required above, please do get in touch and we'll be happy to clear up any doubts you may have.
Please note, the cost of the updater is not included in the Database Health Check Service.