Ecommerce Templates > Testimonials

Ecommerce Templates Testimonials & Reviews
Customer testimonials
This is what some of our users have had to say about their experience using Ecommerce Templates.

Yoga Bliss has used ECT for the last 12 years and this is a testament to the great design, functionality and expandability of the software. Whether you're a small website starting out or a massive ecommerce store, this software can handle it all. It doesn't end there either as there are continuous improvements and updates. Support is also by a 24/7 friendly, experienced team who know this software inside out and will always try to sort any issues you have quickly and with the minimum of fuss.
Yoga Bliss highly recommends Ecommerce Templates.
Thanks ECT - here's to our next 12 years!
Steve - YogaBliss - Facebook Comment
---

I just wanted to say thank you. Thanks for all the support you give during these issues in the support forum, whether it's from me or from others. Even when I don't ask questions on my own, I learn a lot from reading your suggestions to other users.
Your product is affordable, I love the customizations I can do with it, and it works. I've been a customer of yours for years, so I've seen you grow and have witnessed the changes from minor updates to major updates. Thanks for doing what you do, thanks for building this software, and thanks for the help you give.
Thanks,
Mark Michel
---

I'm a newbie so this is the first newsletter I've received. It was certainly worth reading, which is not true of many company newsletters I receive. As with all my other experiences so far, your newsletter was chock full of useful ideas, succinctly and clearly presented. Version 6 has some exciting new options, too, and I look forward to it going live.
I'm so glad I decided to go with ECT, and have a client waiting for me to get our own site up so I can put theirs up for them. The new templates will certainly give them some more options. To me it appears that you have incorporated some new design approaches that are going to be useful to show to potential clients and that are up to date with other web designs. Good job, as usual. I just can't say enough for your business. You possess an uncommon combination of business sense and IT understanding, which is so wonderful for the customer. And your forum is truly unbelievable! Your approach to your product is exactly what I was looking for, with time saving functionality and open access to satisfy the customer, and satisfying customer support. I was already a CSS believer, having spent many years teaching database classes – the CSS approach is so much closer to good system practices than what existed when HTML first appeared. Now, in "retirement" I'm really having fun – finally getting the time to work hands on and build some sites – never had time to do that when I was teaching.
Best regards to one of the best IT companies I've ever dealt with,
Mary B Prescott Ph.D
Co-author of "Modern Database Management"
Distinguished Lecturer of Information Technology Management
College of Business, University of Tampa

---

Wow what an awesome software package. Easy to use; easy to install; seamless match with Paypal. After a year still no issues. Even amazing considering I installed it and I'm not much of a web person. I love how it matches my web design and I can customize it with my pictures.
Let's raise a cup of java and salute you...
Boake Moore
Mission Grounds Coffee
---

I have only been using this template for about 4 or 5 days since I purchased it. This is the easiest program and template I've ever used. I'm a complete idiot when it comes to the ecommerce setup and have had an online store with no product setup since August of 2006. I was reluctant to shell out the money for a template, especially for a shopping cart template when you can get free shopping carts online. Then I remembered all the problems I had with those free carts. Their server might be down, upload options are limited, product layout is very limited, ease of use is limited. That's when I took the jump and bought one of your templates.
I've been working on my site now actively since my domain name was transferred for a couple of hours. I'd already uploaded my .php template as outlined in the "Getting Started" chapter. I haven't really needed anything else from the book so far. I've been able to figure everything out using just this one chapter and your online tutorials. Once I start getting more in depth I'm sure I will need the book more. I anticipate having my store up and running by the end of 1 week from the purchase of my template. This is just amazing to me since I never had that option with other software or hosts. Without your help and this template, I'd still only have the desires to get online.
Keep up the great work and thanks! YOU SO ROCK!!!!
The Better Shopper
---

I would just like to say a few words about Ecommerce Templates. I have found them to be very easy to use, very well thought out and designed. They are also easy to adapt to suit the style of any website.
When I first took on the challenge of building a new online shopping website I thought it was going to be a lot more complicated than it was. Thanks to you guys and girls it has all been made easy with the user manual and your excellent support forum and knowledge base centres. Without these I have got to admit I would have been lost.
So a big thanks to all of you who have posted questions and answers, you have all been a great help in enabling me to find the answer I was looking for. I am sure you will all agree Ecommerce Templates turn into great looking websites, have a look at mine as an example and see what you think. www.paylessfurniture.co.uk
Thanks again to all involved.
Tom (United Kingdom)
---

I would like to share my testimonial with few words about my adventure with selecting e-commerce software for my website www.varnacrafts.com. I chose free popular software initially, worked on it and tested on my server, went unsuccessful and got really frustrated in running the shopping cart, which later lead me to uninstall from my server. Later, when I explored the internet, I landed upon EcommerceTemplates.com, investigated reviews and testimonials, felt good. But to be frank, I hesitantly paid the price and downloaded the software because I already had a bad experience with a software, if this fails, I would loose some money also. I started to install, I was really thrilled, there were no hiccups - installed very easily, bit modified my template to suit my taste, it was amazingly working!
Another lovely experience is, I changed my host recently, I went through some major transition issues which I was not able to solve. Your customer support from the forum did a amazing job in helping me, I felt your hands holding me all the while in my crisis throughout. Thank you so much! Now I realise, the cost I paid is very less for your simplified product and after sales service.

Dr.Sathya Balan Ph.D
Managing Director
Varnacrafts.com
---

I wanted to take a minute to pass along another success story with your commerce templates. Our development team was tasked with building an on-line football game called "Luck of the Draw" for an entrepreneurial football fan. As with most Web projects by start-up businesses, our team was faced with big dreams and a tight budget. We used one of your templates and got the shopping cart and payment pieces done at a fraction of the time and cost of other solutions we had looked at. Just as important, your product allowed us to easily combine our unique design with your features and functions. Visit www.PlayLuckOfTheDraw.com and you won't even recognize the template we began with. But, trust me, it's in there and it's running great!
Keep up the good work!
University of Dayton Research Institute
Information Technology Group
---

Thanks for the all the time and effort you guys put into your products.
I must also say that before I purchased your product I was never happy with support forums. I've used others and had my questions go unanswered for days and even weeks. You guys though have set a standard by which I'll measure everyone else by.
One more kudo for you guys - I have a friend - a web developer - start my site over two years ago. Unfortunately he never finished more than the "under construction page". Of course when you're getting this kind of work done for free you really can't complain and I of course didn't.
After all that time I had accepted my fate that I would never have a site up and running without investing thousands of dollars.
However thanks to ECOMMERCE TEMPLATES my site is nearing completion at an unbelievable rate.
I've only been working on it for a few weeks and I expect a full launch within just a few more.
Again - THANK YOU
Mike (site under construction)
---

I would like to tell you that I am extremely pleased with the template that I received from Ecommerce Templates! I have done a lot of research on templates and shopping carts and yours is by far superior! Not only is it a wonderful design, but it also is so simple to setup. And if I had any questions all I had to do was go to your website and I found the answer. I haven't had a need to post anything to your support forum, but from the posts I do see the response time from you all is unbelievable! Customer service plays a major part in my opinion. I would not hesitate to purchase again!

Jill
---

Ecommerce Templates is by far the most complete e-commerce solution for the money. We have tried other so called solutions only to find that if you really want it to perform as you desire you must continually purchase MODs. In the process of modifying and updating these other carts, you will have spent more than what a shopping cart cost at Ecommerce Templates. We strongly recommend others who are searching for a complete e-commerce solution to purchase the Ecommerce Plus software. The Ecommerce Plus software is not just a template it is a complete shopping cart!
The guys at Ecommerce Templates have created a great product for all walks of web designers. From beginners to pros, this cart will give you the advantage over those using the more expensive, less adequate carts. The possibilities are pretty much endless, especially if you are familiar with the code. It provides a lower learning curve for the beginner, and an effortless quality resell product for the pro. The support is excellent. Vince and Andy work hard to satisfy their clients. They have provided forums, to allow their users an opportunity to voice their opinions and seek help from others. They continually update the carts with new functionality. Making an already excellent product better with each update. What more can we say, it is the best shopping cart on the net!
---

Excellent templates, excellent asp coding for the ASP Store. As an e-commerce developer, I am very impressed with what I have purchased from e-commerce templates. The ROI on this purchase is yet to be matched by any other business on the internet.
I would definitely recommend e-commerce templates.
Simon
---

Just a note to say thanks, I have purchased many different packages and source files etc over the net, however this product of yours is outstanding, I have not had a package that was as easy to install, setup and edit, not to mention I have found your product to function perfectly (now that is rare), and when I have been unsure of anything, no matter how trivial ( I know absolutely nothing about PHP) your product support has been instant and helpful, combined with the online help and tutorials (for us beginners) it really is a great product and is something anybody can recommend with confidence.
Thanks again for a great product.
Craig - (Australia)
---

I spent several weeks evaluating many e-commerce solutions, from add-on programs, to e-commerce ready web site services. I chose www.ECommerceTemplates.com primarily because it offered a complete ready-to-go e-commerce site that can be in production in hours. I just changed the default wording, incorporate my logo, added some product pictures & prices, added some administrative and payment processor information, and I'm in production.
I can kick myself for not using these templates on a previous e-commerce project. It would have saved me hundreds of hours. The template is an incredible piece of software. Why would anyone try to roll their own when it's already done? Especially considering the low price.
Bob
---

I'm the owner of Chrysalis Monogram & Fine Jewelry and I purchased your EComm Plus Virtual Soft template late last year.
I just wanted to tell you guys Thank You! Thanks for a great product and all of your fast and extraordinary support in helping me get my site going in time for my busy Christmas season. I could not have chosen a better template or company which to do business.
Most (75%) of my business is done for Christmas and my sales for the season more than doubled. I truly believe it was due to the new template and the added Payment options for my customers.
I could not be more pleased with your product and the truly dedicated and helpful team at ECommerce Templates.
I forgot to mention that I have gotten lots of hits from your website - people checking out the template. I get lots of emails from the lookers asking about my experience with and about the product. I always give them all the best feedback I can because I am so happy with my purchase. I hope my feedback to the inquiries leads to many sales for your business. You deserve it.
Theresa
---

Regarding www.ecommercetemplates.com I cannot speak highly enough about them. This was our first experience of setting up an online store and with 'time to market' being the primary concern for us, being able to use a smart-looking ready made template with inbuilt store integration was a 'no brainer'. We also purchased the Customer Survey and Spooky login plugins, which integrated superbly.
Without appearing to over sell the company, our experience was excellent, the few headaches we did get due almost entirely to our lack of web design experience was handled in both a timely and professional manner and totally without any fuss or hidden charges.
Steve - www.thechesspiece.com
---

I would like to take this opportunity to thank you for your kind understanding support….. Great customer service. At times I felt like throwing the PC out the window as you could probably tell by some of my emails but you came thru with the answer every time THANKS!!!!! I'm not done with it but its getting there. I want to also tell you that I have never built any web page other that goofing around with Frontpage a week ago. I'm telling you this because it is a true reflection of what someone can do with your template and support that has never ever been in this arena…AGAIN THANKS!!
Tom
---

Your ecomm template is truly a work of art! It installed in minutes. I now need to get the content installed and sort out the product/category list for quotes/orders and it will be ready to go live.
Eddy - Rogers Web Design
---

I just wanted you to know about all the nice compliments I have received this week regarding my website. Everyone that has ordered from me this week has made a the remark of "what a nice web site and it is so easy to use". Some have said that they placed the order with me because the site was so easy to get around in and was so very user friendly. I got a lot of feathers in my hat this week because of the great work that you guys did in building the site and I just wanted to stop everything and take the time to say "thank you".
Ron
---

As a complete internet novice I was so pleased with your superb product and excellent support service. Thank you for your patience in answering my often stupid questions. You could not have been more helpful and made the whole process as painless as possible. Most of my problems were due to my own ineptitude and I would advise other novices out there to take advantage of your "setup site" tool which is worth every dime and will save a great deal of threshing about in the dark. My ecommerce plus template website is up and running and performing superbly. It is so simple to use and it is comforting to know you guys are there in the background should you be needed. Once again many many thanks from a grateful website dummy.
Bill
---

Only Sexy Things is now up and live. Thank you guys so much for the great job on the shopping cart. I was able to satisfy a customer's needs with a great very well designed ecommerce site for a fraction of the cost of the others. The customer is happy so I am happy. I will leave the credit at the bottom of the page to give you guys credit and I will be ordering more soon since this was such a success. You guys make everyone's life so easy. Thank you so very much.
Danny - Adult orientated site
---

I'll be in touch when I'm ready to utilize your templates on my other sites. In the meantime, I'll be singing your praises far and wide to anyone that needs shopping cart software.
You truly have an easy-to-use template, and you follow that up with top-notch support.
Bill Hester - www.tacticalknifedepot.com
---
Customer feedback
Here's a selection of customer responses to our Version 6.3 release.
---
Ecommerce Template reviews
Ecommerce Guide from internet.com - January 20 2009
Many delightful features in this powerful, low cost e-commerce shopping cart program integrated into main HTML editors Dreamweaver, Frontpage, Expression Web and GoLive and generic versions. CSS ecommerce templates with ASP and PHP versions. For hands-on store owners...
Read the full review at http://www.ecommerce-guide.com/article.php/11820_3797296_2
Ecommerce Guide from internet.com - November 15 2005
Building a functional e-commerce site can be as easy as using a template. That is if the template you are using is the aptly named Ecommerce Templates.... the software offers impressive simplicity and ease of use. Ecommerce Templates combines the familiarity of your favorite Web authoring tool (whatever that may be) with ready-built templates to provide a fully functional e-commerce setup with a minimum of fuss.
Read the full review at http://www.ecommerce-guide.com/resources/product_reviews/article.php/3564316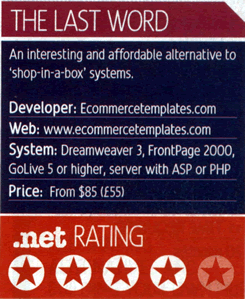 Ecommerce Template Plus
BUILD AN ONLINE SHOP THE EASY WAY WITH THIS COLLECTION OF DOWNLOADABLE TEMPLATES FOR DREAMWEAVER
Creating an online store isn't the easiest thing in the world. You can try it yourself, signing up with a payment processing company and shovelling the necessary code into your HTML pages, or you can shell out for a "shop-in-a-box" system that builds your site from a database. Both methods have their problems, though. Doing it yourself takes forever, and the shop designs of most e-ecommerce packages often leave a lot to be desired. Ecommerce Templates promises a third way though, and actually delivers.
The idea behind Ecommerce Templates is a simple one. You choose from a collection of professionally designed templates for ASP or PHP sites, and the pages integrate with major payment providers (PayPal, NOCHEX, and so on). Simply choose the design you want, download the code, and tweak it in the Web editor of your choice. Once you've done that, a Web based control panel (on your own server) takes care of product information, shipping costs and so on. It's very straightforward but surprisingly powerful. For example, you can set minimum stock levels, multiple shipping options or notification only payments (for payment methods not covered by Paypal et al). The cost is a one-off and because everything resides on your own server, there are no monthly fees or other nasty surprises.
Of course, the whole exercise would be pointless if the templates themselves were rubbish, but the various designs look the part. You also get all the source PNG files so you can edit the graphics and carry out minor redesigns yourself. If you know your way around Dreamweaver and want a quick way to get an online shop up and running, Ecommerce Templates are well worth considering.
.net magazine - www.netmag.co.uk
More Ecommerce Templates online reviews and ratings


Trustpilot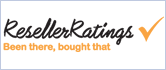 Blogs