Ecommerce Templates > Store health check service
Ecommerce Templates Store Health Check Service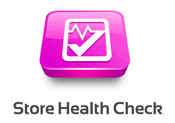 The health check service has been developed to give your store a thorough inspection to make sure you are getting the most out of your shopping cart. Our professionals will compile a report based on factors such as design, search engine readiness, security and coding as well as providing fixes where possible for any issues that are found in the process.
These are the major points of the store health check service:
Security
Check on the version and update to the latest if required.
Check the security of the database and relocate / rename it if necessary
Set up a second admin folder
Database back up
Coding
Check for any javascript or similar errors and fixes where possible
Recommendations on improving existing code
Recommendations on CSS use along with implementation
Design
Design and layout recommendations
Check for slow loading pages / images
Store layout recommendations for category / product / product detail pages
Integration of mini cart / search box / mini login if required
Search engines
Recommendations for improving the store's search engine readiness
Implementation of dynamic titles and meta tags if required
Report on current search engine positioning.
Please fill in the details below following the purchase of the store health check service and we'll provide you with a thorough report on your store within seven working days.

If you have any questions regarding the store health check service or the fields required above, please do get in touch and we'll be happy to clear up any doubts you may have.
Please note, the cost of the updater is not included in the Store Health Check Service.