Ecommerce Templates > Articles > Licensed v Hosted Ecommerce Platform
Licensed v Hosted Ecommerce Platform
In this article we are going to cover the main differences and features of licensed shopping cart software and a hosted shopping cart solution. We will start with a general definition of each and then move on to possible scenarios where you may want to choose one over another.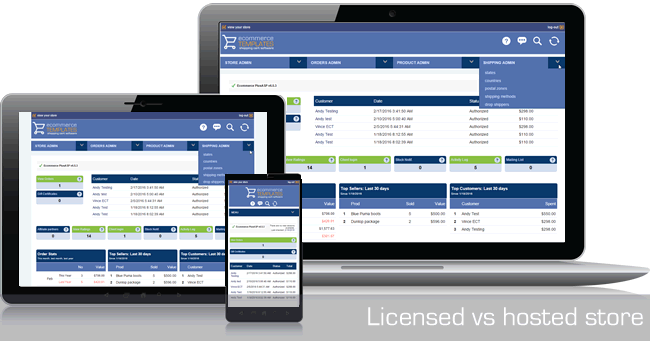 What is licensed shopping cart software?
A licensed cart is typically where you purchase a one-time license to set up an online store with the host of your choice, either hosting yourself or with a third party hosting company. The license defines what you are permitted to do with the software, typically in terms of how many stores you can set up with that license, access to source code and the like.
What is a hosted ecommerce platform?
A hosted cart as the name suggests comes with the hosting included in the package. This means there is a monthly or annual recurring fee to use the cart. The system is typically "closed" in that there is no access to the source code or FTP to upload files and modifications. Access is via the browser and / or app. Other variations on the name may be SaaS (Software as a Service) or cloud application.
Why might I choose a licensed store?
If you want to have control over the hosting, either hosting yourself or via a third party hosting company
If you want FTP access to upload your own files, your own modifications or manually make your own back-ups
If very fine tuning aspects of the design is an important consideration
If you prefer not to pay a recurring fee on top of hosting, payment gateway etc.
If you want to use an HTML editor like Dreamweaver to set up the site
If you want to design the store yourself or want to start from a third party design that the software can be incorporated into
If you want the flexibility to export your database and settings to use later on perhaps with a different application
If you want to carry out your own custom coding, or coding from a trusted developer
Why might I choose a hosted store?
I prefer not to touch any code and have all updates and fixes done for me
I want new features added automatically
I'm not particularly tech savvy and it's one less thing to worry about
I don't want to have to look for a host or any of the extras I might need for a store
I need to set things up very quickly
I don't have an HTML editor and am not familiar with content builders like Wordpress
I want an initial low outlay that can increase as I add more products and the sales start coming in
I want simplicity and peace of mind
So, what is the recommended solution?
Like most things in life there is no "one size fits all solution" so we suggest carefully considering the points laid out above before making a decision.
Check the small print - some hosted stores will want to take a cut of your sales, they might only provide what you consider regular features in premium plans. Similarly a licensed store might employ an unfair support policy, unreal set up costs or high priced plugins for example.
Check the company - how long has the software been in development, can you get an idea of support response times and expertise and what are real users saying about their experience of using the software.
Check the cost - how much is it going to cost you per month, are there any extras you need to take account of, what level of sales are you going to need to at least meet those costs.
Check the features - does the software do everything you initially need "out of the box" or are you going to have to pay extra for plugins, apps or custom coding.
At Ecommerce Templates we offer both a hosted shopping cart and a licensed shopping cart so our views here are completely impartial - we have been developing the software since 2002 so we are confident we know what we are talking about. If you require further information or advice please don't hesitate in contacting us.