Ecommerce Templates > Articles > Taking your store to the next level
Taking your store to the next level
Setting up an online store isn't that difficult really and when the first few sales have come in it's then easy to sit back, put your feet up and refresh the orders page. What we're going to discuss here is how you should treat your store like any other business, staying ahead of the curve, continually adding, tweaking and testing new content and ideas. Here are some things you can consider doing and redoing.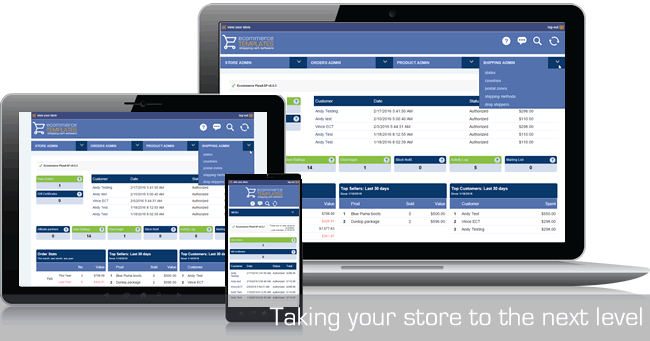 Revisit your product descriptions
At the beginning it's easy to populate your products with the blurb provided by the manufacturer or maybe you have added a couple of lines yourself before moving on to the next product. Search engines like fresh unique content and customers will appreciate well written thorough descriptions of the product. It's all about answering questions really, how do I use it, what does it do, what size is it, what can I use it with, what might I want to buy with it etc. The typical blurb from a manufacturer is a dull affair copied and used on hundreds or thousands of web pages. Get creative and be prepared to devote significant time to crafting unique descriptions that answer all the questions a customer might want to throw at you. If you can add video to further enhance the prose, even better. Read more about writing great product descriptions.
Increase your non-store content
As we said above, search engines love fresh unique content and they love it even more when it is answering the question posed by the searcher. The product descriptions can go some way in addressing those queries but there's nothing like adding regular articles to keep everyone happy. There's no such thing as an ideal length for an article but keep them very much on topic, decide which keywords you are targeting and go easy on dropping in product links so it doesn't just turn into a pure marketing pitch. Break the text up so it's easily readable, use bullet points so people can scan quickly and think about the font you want to use and adjust the line-height for an easy read.
Understand some of the technical side of the store
We don't propose reinventing yourself as a developer but it certainly helps running a store if you have a handle on how and why things work the way they do. Here are some things you might want to look into
Store security and best practices
All stores really need an ssl certificate so the pages are served over a secure https connection. Your customers will feel reassured to see your site is safe and search engines are making changes to reward sites that are secure. From a security perspective you should also always be running the latest version of the software, using the latest updated plugins and checking with your host that any software they have installed for you is also up to date.
CSS and HTML
Most stores these days come with their own editors or an editor plugin so there's no need to be a coding wizard to format content. If you want to tweak that default display having a handle on the basics can come in very useful though. You can use guides like w3schools for reference and make your own notes on changes you make.
SEO
Search Engine Optimization - if it's something you are going to read up on, make sure you only get your information from highly reputable sources. Use online checkers as just a very rough guide to what search engines find on your site and again if you do use them, use recognized sources such as Google Lighthouse.
Analytics
Without some sort of stats package you can only really gauge the performance of your store from orders and customer feedback. It's really important to measure the changes you make using hard data. Probably the most used stats package is Google Analytics - it doesn't just tell you how many people visited your store but provides a plethora of information on visitors and their behavior. It can get overwhelming but if you concentrate on certain reports it's amazing what you can find out and then decide how to act on the data retrieved. For example you may keep a tab on what people are entering in your internal search - are they using keywords you hadn't thought of, are they finding what they are looking for, are they searching for products you don't carry.
Work on the speed and optimization
We touched on this above with reference to Google Lighthouse which will give your pages a speed score. Site speed is becoming ever more important particularly with the the increase in mobile use. There are some pretty simple things you can do to improve the speed and optimization of a store, it doesn't need to cost anything but a bit of time. Here are some tools that will help you with the job
GTMetrix
Provides comprehensive reporting on your site speed and what you can look at to make improvements. Some of the reporting can get quite technical but it is a great starting point to get a snapshot of your page performance.
Google Page Speed Insights
A simpler tool but again it provides a decent guide to performance with the added advantage of being able to download optimized images. There are also more advanced suggestions as well as minified css and js. Use these with caution though - minifying makes editing difficult for example.
Google Lighthouse
Looks at more than just page speed and provides some interesting feedback on other important issues such as usability and mobile friendliness
Use these and other similar sites on a regular basis to make sure you haven't introduced problems into your store and to measure improvement over time.
Keep testing
We have shared some testing tools above, and it's important that this isn't just a one off task - testing needs to be carried out continuously - you might be testing different aspects of your store at different times but it's really important to keep it up. Here are some other things that should be regularly checked
Check for broken links - you can do this manually by browsing your own site but also use Webmaster Tools or a dedicated application like Screaming Frog.
Check your store navigation - make sure it's as easy as possible to find products, maybe get a friend to navigate your store and watch over their shoulder as they click through pages.
Check your page titles and meta description tags - make sure they are on-topic and of an acceptable length. Google Webmaster Tools will report on any that are missing, duplicated or too long but on a small store it can be done manually too.
Check that nobody is stealing your content, a service like copyscape allows you to search across the web on duplicate text
Check your competition - are they doing things or selling items that you could do better with? Check their search engine rankings and yours.
Test your checkout regularly, look out for any warnings in the browser, security warnings or missing images.
Check for software or plugin updates
Make sure that any promotions you have on-going are working as they should, that any discounts or coupons haven't expired and that the amount is correct.
Check review sites and social media to see if anyone is saying anything nice (or not so nice) about you.
Keep your social media posting regular, check responses to any campaigns
Test your site on different mobile devices and test as many pages as possible
If needs be set reminders to test all aspects of your store on a regular basis. You really want to find any problems before your customers or search engines do!
At Ecommerce Templates we offer shopping cart software and store related services. If you require further information on the services we offer please don't hesitate in contacting us.