Ecommerce Templates > Articles > How do I get my products and business online?
How do I get my products and business online?
If you already have a fair idea of what products or services you want to sell, you'll need to think carefully about how you are going to get those online and which platform / business model / payment set up to employ. We are going to discuss some of the alternatives here, from setting up your own online store to drop shipping and selling on third party platforms.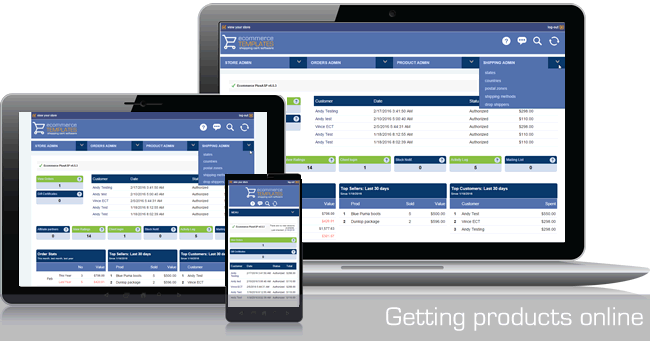 What is shopping cart software?
Shopping cart software is a software package that allows sellers to offer their products online from their own virtual store. Customers can add one or more products to the cart before choosing a payment and shipping method and then checking out. The customer and seller both receive notification via email of the order and that order is processed by the terms set by the store owner.
An online store offers great flexibility as the store owner has control over the shipping costs and methods as well as deciding how payments will be received, whether that be via a third party payment provider, cash on delivery type transaction or a combination of choices. There should also be simplicity in adding and maintaining products as well as product images. This can typically be achieved by basic form filling in the store admin interface with image upload or via a csv file. A csv (comma-separated values) file is a text data file which can be opened and edited in a text editor or spreadsheet application like Excel and is used to populate the product fields required by the store.
Ecommerce platforms can either be licensed or hosted. A licensed store is when you make a one time software purchase to set up a store with the hosting of your choice, with access to all the store files. A hosted platform will incur a recurring fee and access to the store is via an online interface or app. We discuss the differences in our article licensed vs hosted ecommerce platform.
What is drop shipping?
Drop shipping is selling products on your store but shipped directly from the supplier or manufacturer. This means that you don't actually have to hold any stock yourself - when a sale goes through on your store, the supplier is notified of the order and ships accordingly. Let's look at some of the advantages of drop shipping along with the pitfalls to avoid
Low Cost
Drop shipping is a good entry level option. Costs are kept to a minimum as you don't have to buy in or store items, you also won't have any "hard to shift" items to be concerned about
Maintenance
Although you will have course need to keep your store up to date as you would with any regular retail business, you don't have to worry about packaging and shipping. A good supplier will also simplify payment terms and offer regular inventory updates.
Margins
Suppliers should allow some freedom for offering sales, discounts and affiliate deals but it is crucial to keep on top of pricing as there is not the flexibility associated with buying and stocking your own products. Also bear in mind that many suppliers also sell directly themselves so you are having to compete on a playing field that isn't always level.
Stock
Although you don't carry the stock yourself, you will still need to be in constant communication with the supplier so you are not selling products that are not available. You need to make sure that the product feed they offer is compatible (or can easily be made compatible) with your own shopping cart platform.
Shipping
In theory you don't have to worry about the packaging and shipping side of things so much as this is all done for you. You do need to make sure that the drop shipper bills you for the exact shipping cost and not an estimated value as that could easily eat into profits. Also be aware on any minimum purchase policy so orders don't end up costing you money.
Suppliers
Really good suppliers can be difficult to find, typically as companies will want to keep the source from leaking out. It is a good idea to pick two or three suppliers to insure against companies who change their business model, practises or prices at short notice. Make sure communication with the supplier is as fluid as possible and always be on the look out for new ones.
Most decent shopping cart platforms will have a built-in drop shipping feature but in theory you could also drop ship from third party platforms like ebay or Amazon. To find a supplier yourself there are plenty of drop shipper directory sites you can find with a quick search. Bear in mind that if you find them quickly there is likely to be a lot of ready-made competition so it's also not a bad idea to approach companies directly as well.
What third party ecommerce platforms are available?
If for some reason you prefer not to have your own store it is still possible to sell your products online and do so via a third party ecommerce platform like Amazon, Etsy or ebay. You will need to be wary of the costs involved as there may be a subscription fee on top of the individual sales fee. Also bear in mind that the platform will have complete sales and performance data for your product, something that you may prefer not to share with a potential competitor.
It is of course possible to sell on a third party platform as well as having your own online store. It provides more channels for sales and can be used to move more specialist items or ones that have been hard to sell on your own store. Some platforms can also help target your audience more easily - for example if you are selling handmade items you might want to set up a second store offering your items on Etsy.
How should I take payments?
Customers are becoming much more security conscious and need to be reassured that their payment details are being handled in a professional manner. There are hundreds, possibly thousands of companies out there offering payment services so the final choice is likely to be a difficult one. Payment processing rates will vary slightly between providers so that is naturally going to be a factor but perhaps not the most important in our view. You need to be able to work with a company that both you and your customers can trust so we advise working with a "known" company.
Customers also like choice, so on checkout give them the option to pay via credit card, via an online service like PayPal and possibly a manual method like cash on delivery.
If you are running your own online store, make sure all your pages are served over a secure https connection - not just the checkout steps. Clearly show what payment methods are available and in your privacy policy make it clear how personal data is respected and handled.
At Ecommerce Templates we offer both a hosted shopping cart and a licensed shopping cart. We also support drop shipping and integrate with the top payment providers. If you require further information or advice please don't hesitate in contacting us.