This addon for the ECT cart creates a XML Sitemaps protocol compliant file of your ECT store pages for the search engines spider.
Newly built in features make it even easier to use:
1) Auto creates file to your website without the need to play with source code.
2) Allows you to submit the GoogleSitemap.php file directly to Google Search Console. This allows Google to ALWAYS receive the most recent version of the file in case you did not remember to generate it for a while. It will not get stale results.
3) Single button to generate the file in your ECT admin console.
4) Number of URLs added to the sitemap are reported.
5) Can manually ping Google to fetch the sitemap once created with a single click. (Bing no longer accepts this feature)
6) Easy to install!
The Google XML Sitemap Generator is available here:
http://www.dlss.ca/proddetail.asp?prod=GoogleXMLSitemap
Mike Beebe
President,
DataLinks Software Solutions
www.dlss.ca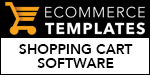 Rate Me Here
ASP and PHP mods
- www.dlss.ca/products.asp
A Tremendous Home
- www.ATremendousHome.com
Buy Cigars Online
www.CigarSmokeShop.net
---
Edited by - DLSS on 08/24/2022 12:57:53