Ecommerce Templates > General Help > The Control Panel > Admin countries page
Admin countries page
This is where you will define the countries that will appear on checkout as well as setting their properties for attributes like tax and free shipping.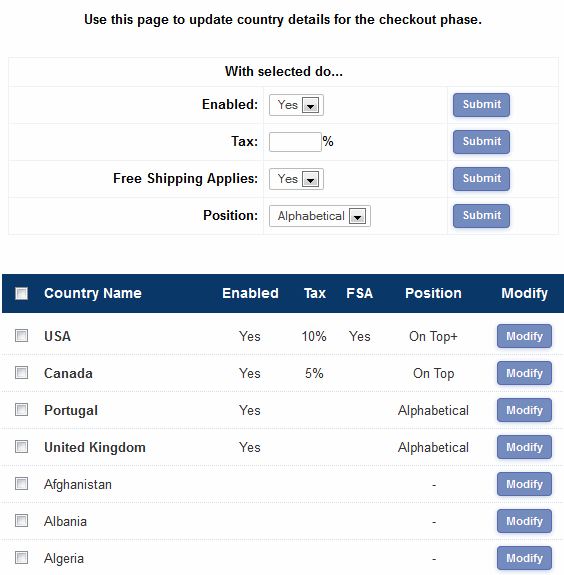 You can update all country attributes at one time by selecting the box next to the country name and entering the details in the "With selected do..." table. Alternatively you can click on the modify button next to each country to make the changes.
Country Name
This is the name of the country as it will appear on checkout
Enabled
Only enable those countries that you are planning to ship to. Be careful when deciding which ones to enable as it is tempting to support every country to increase sales, but unfortunately some also attract more fraudulent orders than others. Some may also incur prohibitive shipping costs.
Tax
If a country is liable for tax you can set the percentage here.
FSA
This stands for Free Shipping Applies and is used in conjunction with the free shipping discount / coupon feature. Although this is a global setting, in Version 6.2 you can make products free shipping exempt through the admin products pages.
Position
This relates to how the countries will appear on checkout. The "Home Country" will usually be the same as the Country defined in your main admin page. "Home Country +" is used with the US / Canada regional plug-in. "On Top" is useful for countries that you frequently sell to so the customer doesn't have to go scrolling through the complete list. If you only have a Home Country defined and no others, the "Out Of State" text entry is not included on the checkout form.
Postal Zone
This is used in conjunction with weight and price based shipping only (not if you are using UPS, USPS or FedEx online rates). In the admin zones page you would set up your shipping rules and this is where you assign those zones to the countries you ship to.
Modify Country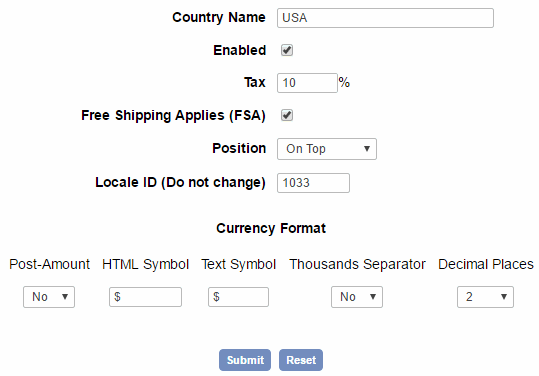 When you click on Modify for a country you will see a screen like the one above with all the settings defined. The currency format only applies to the Home Country (the one you set in the main admin settings page). This replaces the orveride currency settings previously used in vsadmin/includes.asp or vsadmin/includes.php.