Ecommerce Templates > General Help > Currency converter
Ecommerce Templates currency converter
It is possible to show your product prices in up to three currencies other than the default. The alternative prices will be shown on your product and product detail pages below the main default price. Sales will always be processed in the default currency but it does provide a guide for international purchasers regarding the approximate price in their local currency.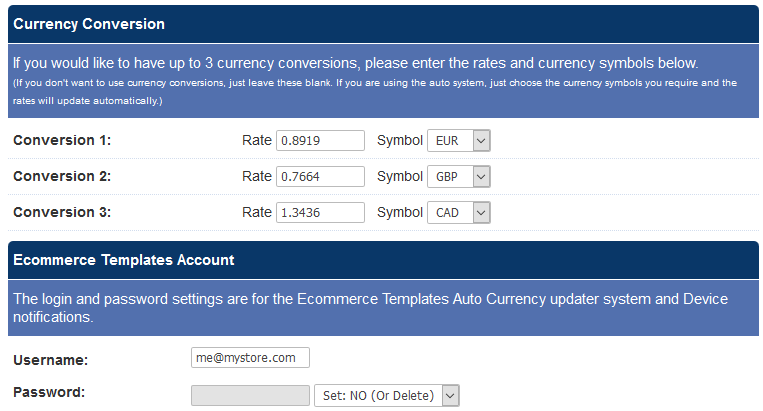 On the main admin page you can set your own rates and change them when you like by filling in the rate field and selecting the currency of your choice from the drop down menu for symbols. This would have to be done regularly to keep up to date with currency fluctuations.
Alternatively it is possible to connect to our currency updater. In version 7.0.5 the currency converter updater system is now linked to the ECT Account feature. You will first need to activate your account and then enter the username / password in the fields above.
The display on your products / detail pages will look something like this

The currencies currently supported are:
Danish Krone (DKK)
Swedish Krone (SEK)
New Zealand Dollars (NZD)
Australian Dollars (AUD)
Canadian Dollars (CAD)
Swiss Francs (CHF)
Euros (EUR)
British Pounds (GBP)
Japanese Yen (JPY)
United States Dollars (USD)
Bulgarian Leva (BGA)
Chinese Yuan (CNY)
Cypriot Pound (CPY)
Czech Republic Koruny (CZK)
Estonian Krooni (EEK)
Hong Kong Dollar (HKD)
Croatian Kuna (HRK)
Hungarian Forint (HUF)
Indonesian Rupiahs (IDR)
Icelandic Kronur (ISK)
South Korean Won (KRW)
Lithuanian Litas (LTL)
Latvian Lats (LVL)
Maltese Liri (MTL)
Malyasian Ringgits (MYR)
Norwegian Kroner (NOK)
Philippine Peso (PHP)
Polish Zlotych (PLN)
Romanian Lei (ROL)
Russian Rubles (RUB)
Singapore Dollars (SGD)
Slovenian Tolars (SIT)
Slovakian Koruny (SKK)
Thailand Baht (THB)
Turkish New Lira (TRY)
If you do not want to show alternative currencies on your product and product detail pages then leave all the fields blank and the feature will be ignored on your store.