Ecommerce Templates > General Help > Using the control panel
The Control Panel
Once you have uploaded all your files to the server and made the database connection then you will be able to log onto your control panel to start making changes to your store. The URL of your control panel will typically be www.yoursite.com/vsadmin/login.asp, or .php depending on the version you are running.
The default login for the control panel is
User: mystore
Password: changeme
...and we recommend changing that as soon as possible.
The first screen you will see after logging on will show the dashboard and links to the various admin pages. Please click on the links for in depth descriptions of each section of the control panel. Most links will open in a new window but some short descriptions are given at the bottom of this page.
The control panel - an overview
Version number
This is the version of your store and the number should be quoted if you should have any support questions. Updates are released on a regular basis and can be downloaded with the email used on the original purchase from our updaters page. Updates and support are free for the first 6 months after purchase and if you wish to continue for a following 6 months there is a fee of $39.95.
Change username / password
This is where you change the username and password to your control panel. The default is mystore / changeme - if you forget the combination then please visit our troubleshooting page.
From version 5.4 you can also set up secondary logins thus restricting access to specific admin pages depending on login.
Edit Quantity Discounts / tiered pricing
Quantity discounts / tiered prcing means you can adjust the price depending on the number of items of a particular product purchased. Check the box on the quantity pricing page if you want to show a drop down menu of all product ids you have available when setting up the price breaks. Leaving the box unchecked means that you will have to enter the product id manually. You can make your customers aware of the price breaks offered by adding the details to the product description.
Example:
If you wanted to offer your customers a price break for purchasing multiple quantities enter the details in the boxes provided:
Purchase 25-49 items for a price of $2.00 each
Purchase 50-74 items for a price of $1.75 each
Purchase 75-99 items for a price of $1.50 each
Purchase 100+ items for a price of $1.25 each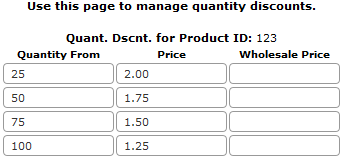 How to set up a quantity discount video tutorial
IP Blocking
If you need to block someone using a particular or range of IP numbers then you can set them up here. Use this function sparingly so as not to block legitimate users. Visitors who are blocked will not be able to complete the checkout process.
Logout
Click on this link to log out of your control panel