Ecommerce Templates > ASP Version Help > Payment Processors > Netbanx

Netbanx and Ecommerce Templates
Once you have created your account with NETBANX the first thing you will need to do is log into your Ecommerce Template control panel and follow the steps below:
Click on the "Payment Providers" link.
Click on Modify for Netbanx.
Make sure that the "Enabled" checkbox is checked.
Enter your Merchant ID in the box provided.
Enter the checksum provided to you from the Netbanx admin.
Click submit.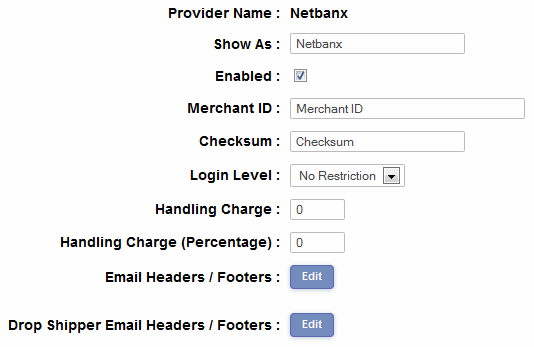 Please note that Merchant ID above refers to your E-Commerce store ID.
This is different from your bank merchant number.
About NETBANX
NETBANX provides a hosted payment page which gives access to all these payment options – easily integrated with Ecommerce Templates.
Multiple payment methods – accept credit card, debit card and internet banking payments.
Dynamic currency conversion – Give your customers the choice of paying for goods and services in their local currency while protecting your business from currency fluctuations.
Localised payment methods – Use payment methods specific to geographic markets. We offer giropay, ELV, Carte Bleu, Poli, Carta Si.
Enhanced payment features – Benefit from pay in / pay out capabilities, online refunds, e-wallet services, deferred billing and much more.
Top security features - Identity verification, transaction filters, PCI Compliance, security code verification (CV2/CVV), secure 128k bit encryption, BIN and IP Blocks, Deferred Billing.
NETBANX is the payment arm and a wholly-owned subsidiary of the NETELLER Group, a public company quoted on the London exchange (AIM).
For more information contact us today.
Or visit our website www.netbanx.com
Please do read our guide here on credit card fraud.