Ecommerce Templates > Payment Processors > PayPal Payflow Link

What is PayPal Payflow Link?
PayPal Payflow Link lets you accept all major credit credit cards, PayPal and BillMeLater® online. This hosted solution offers a secure payment experience and provides an embedded checkout that keeps customers on your site. You can use it with your existing merchant account. Plus it's PCI compliant to help manage your credit card security requirements.
PayPal Payflow Link and Ecommerce Templates
Before you configure Payflow Link with your ecommerce templates store, you should determine which version of Payflow Link you are running: version 1 (V1) or version 2 (V2). To verify your Payflow Link version, log into your PayPal Manager account at https://manager.paypal.com. On the right-hand side of the page, look at the Service Summary section. If it says "Payflow Link," you are on the V1 product. If it says "Hosted Checkout Pages," then you are on the V2 product.
It is possible to upgrade a V1 account to V2, but you will need to call the PayPal Merchant Technical Support line to upgrade the product.
Once you have created your account with PayPal you can log into your store control panel, choose Payment Providers from the left hand menu and then locate the payment provider listed as "PayPal Payflow Link" and click on the Modify button. Fill in the details as shown below: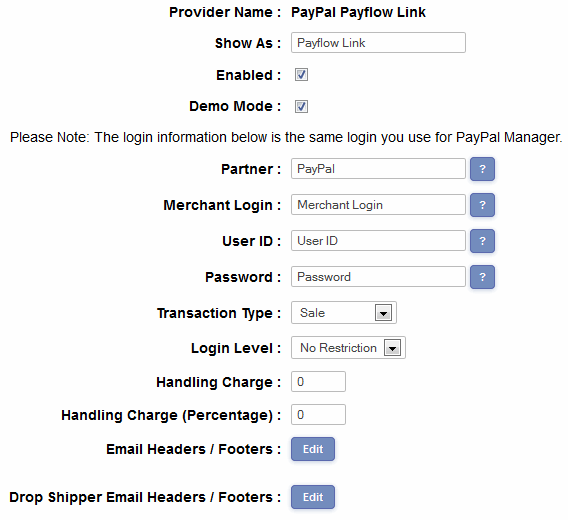 For Payflow V1 Merchants
If you have an existing Payflow V1 account, you should only complete the Partner and Merchant Login fields shown above.
For Payflow V2 Merchants
If you have a Payflow V2 account and only complete the first two fields, you will use the existing Payflow Link flow. If you complete all four fields as below, you will use the new checkout flow.
In the Partner field enter "PayPal"
In the Merchant Login field enter the login name you created when you signed up for PayPal Payflow Link.
In the User ID field enter your PayPal User ID
In the Password field enter your PayPal Payflow Link password
The other fields can be left with their default settings for the time being
For PayPal testing, check the "Demo Mode" box and then sign up for a developer account at https://developer.paypal.com/. This will let you use PayPal's sandbox environment for testing.
PayPal Manager Settings
Log into your PayPal Manager at https://manager.paypal.com/, go to Service Settings > Set Up and enter the following...
Error URL - http://www.yourstoreurl.com/thanks.asp
PayPal email address - you@yourpaypaladdress.com
Show confirmation page - On my website
Enter Return URL - http://www.yourstoreurl.com/thanks.asp
Return URL Method - Link
Enable secure token - Yes
Customizing the PayPal Express Checkout and Bill Me Later User Interface
When using Express Checkout and Bill Me Later (requires Payflow V2) it is possible to co-brand the cart review area with your logo and principal identifying color. Displaying your logo and color helps blend the PayPal checkout pages with the rest of the store.
To make these changes you will need to log into your PayPal account and go to Profile > Selling Options > Custom Payment Pages. You enter your preferences there.
Without a logo image, PayPal displays your business name. Without your preferred identifying color, PayPal blends medium gray to white in the gradient fill.
Benefits of Using PayPal Payflow Link with Ecommerce Templates
More ways to get paid with innovative payment options like PayPal and Bill Me Later
Cost effective - no hidden fees
Get paid quickly
Works with your merchant account
Embedded checkout keeps customers on your site – no PayPal account required
Flexible customization options let you create a professional-looking checkout page
Seamless integration with PayPal
Powerful anti-fraud measures
Simplifies PCI compliance