Ecommerce Templates > Payment Processors > PayPal Payments Advanced

What is PayPal Payments Advanced?
PayPal Payments Advanced lets you accept all major credit cards, PayPal and PayPal Credit online. In addition to a merchant account and gateway in one, PayPal provides you with a secure checkout template to integrate within your website. Customers stay on your site for the entire checkout process, and they won't know that PayPal is processing their payment, making your business look more secure and professional.
Please note that PayPal have only made this available for US based merchants for the time being.
PayPal Payments Advanced and Ecommerce Templates
Once you have created your account with PayPal you can log into your store control panel, choose Payment Providers from the left hand menu and then locate the payment provider listed as "PayPal Payments Advanced" and click on the Modify button. Fill in the details as shown below: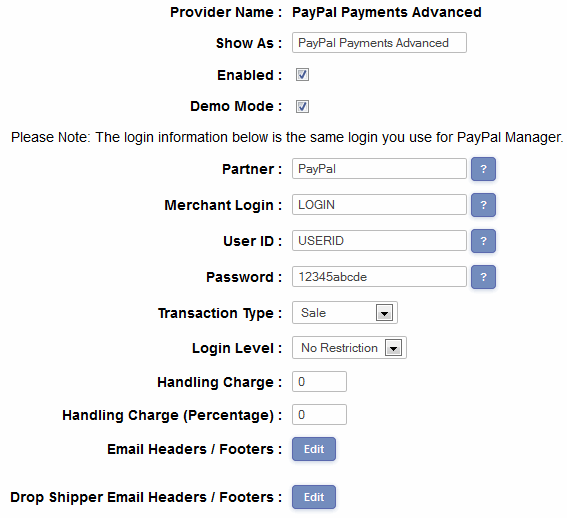 In the field Partner enter "PayPal"
In the field Merchant Login enter the login name you created when you signed up for PayPal Payments Advanced.
In the box User ID you will need to place your PayPal User ID (Same as Merchant Login)
In the field Password enter your PayPal Payments Advanced password
In the Transaction Type drop down select "Sale" if you want to capture the funds at the time of payment, select "Authorization" if you need to capture the funds at a later date.
The other fields can be left with their default settings for the time being
For PayPal testing, check the "Demo Mode" box and then sign up for a developer account at https://developer.paypal.com/ so you can use their sandbox feature.
PayPal Manager Settings
After logging into your PayPal Manager these are the sample settings required
Service Settings > Customize: Layout C
Transaction Process Mode: Live
Enter Cancel URL: http://www.yourstoreurl.com
Enter Error URL: http://www.yourstoreurl.com/thanks.php
Cancel URL Method: Post
How your pages look: Design Pages
PayPal email address: you@yourstoreurl.com
Required and editable fields: Check CSC
Show confirmation page: On my website
Enter Return URL: http://www.yourstoreurl.com/thanks.php
Return URL Method: Get
Use Silent Post: No
AVS; Full
CSC: Full
Enable Secure Token: Yes
For more details on the settings and an explanation of the security choices for AVS and CSC visit the PayPal help site.
Please note that you can not use the same PayPal Advanced account on multiple sites.
Customizing the PayPal Express Checkout User Interface
When using Express Checkout it is possible to co-brand the cart review area with your logo and principal identifying color. Displaying your logo and color helps blend the PayPal checkout pages with the rest of the store.
To make these changes you will need to log into your PayPal account and go to Profile > Selling Options > Custom Payment Pages and you can enter your preferences there.
Without a logo image, PayPal displays the merchant's business name. Without the merchants color, PayPal blends medium gray to white in the gradient fill.
Benefits of using PayPal Payments Advanced with Ecommerce Templates
Payments taken on your own site with embedded checkout
Seamless integration with PayPal
Customizable checkout process
Cost effective - no hidden fees
Customer doesn't require a PayPal account to purchase
Powerful anti-fraud measures
Get paid quickly
Simplifies PCI Compliance